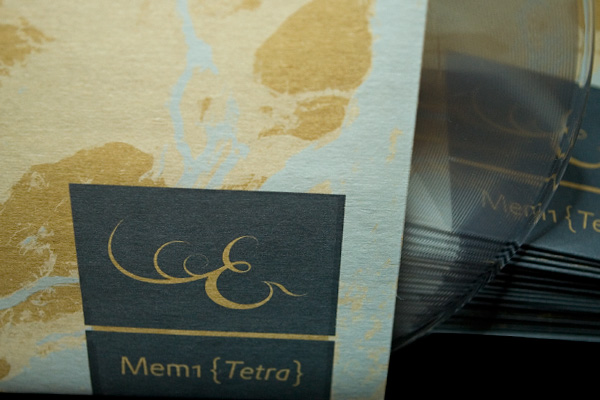 Mem1 {Tetra

}


Side 1
Trieste [11:57]


Caldera [7:32]



Side 2
Hræsvelgr [18:03]


Release Date: December 22, 2010
Retail Price: $18 US / $22 International
Laura Cetilia
cello + electronics
Mark Cetilia
analog modular + electronics
Mastered by Twerk for
Audible Oddities
Art + Design by
Mark Cetilia
After embracing the virtues of collaboration on their 2009 album
+1
(with artists such as Steve Roden, Jan Jelinek and Frank Bretschneider) and the recordings featured on their upcoming full-length album with Stephen Vitiello (
Age of Insects
on Dragon's Eye Recordings), Mem1 returns to its core. The duo's fourth full-length album,
Tetra
, was recorded over a brief but intense period of time in Spring 2010. The album is indicative of the ensemble's evolution and high calibre results arising from an unfailing commitment to their practice and to each other (Mark Cetilia, analogue modular + electronics and Laura Cetilia, cello + electronics).
In
Tetra
, Mem1 focuses on long-form improvisation and a deeply personal approach to sound gained over seven years of playing together. Each piece is evocative of an extreme environment, whether exploring the impenetrable darkness of the ocean floor, the anticipation of an impending volcanic eruption, or the frigidness of a barren, windswept mountain. Mem1 offers the listener moments of warmth, austerity, and luxury—each suspended in time, slowly folding in over each other. Tetra is the debut release on Mem1's new record label, Estuary Ltd. It is available in a numbered edition of 300 carefully crafted releases on 150 gram clear vinyl with silkscreened artwork designed and hand printed by Mark Cetilia using metallic inks.
Reviews
Order



c + p 2009 – 2023 Estuary Ltd. |
estuary-ltd.com